Crisis Intervention in School Communities
What happens when a school experiences a teen suicide in the school bathroom at 9:22 am on a Monday? You don't think it will happen to you because you think all is OK in your nice quaint community, and I hope it is.
On this particular day in a small beautiful community southwest of San Antonio, TX - Devine High School it started like any ordinary day. Until second period - two girls coming running in to the office screaming . . . Lives are forever changed in a heartbeat!
A week later, this community brought Jeff Yalden to town for a 16-17 hour day. Students, Teachers, Parents and Community, and then the high school basketball game.
This is what Jeff does. He touches hearts . . . he changes lives. One person. One community at a time.
Jeff Yalden is the go-to person for Teen Mental Health and Teen Suicide Prevention.
Want Jeff's FREE Online Teen Suicide Prevention Course? (CLICK HERE).
Jeff literally goes into school communities and saves lives every time.
For more information on Jeff working with your school and community, here is a little of what Jeff offers:
Here is what you get:
The Signs, Symptoms, and Red Flags To Look Out For

What To Say and "How" To Say It

How the Administrations Can Help Students & Staff

Signs and Symptoms of Teen Depression and Suicide

Jeff's Theory on Today's Suicide Epidemic (Watch his TEDx Talk)

How to Reduce Anxiety and Stress in Every Day Life

The Effect of Social Media and Cell Phones and the impact on Teens/Youth
. . . and so much more!
No administrator is ever given a certificate on how to lead their students and staff through the loss of one of their peers or even teachers. Moving forward after a suicide can be very tricky. This is why many communities have reached out to Jeff Yalden for help in making sense to the students and helping the staff through the grieving process.
Here is a little example of where Jeff has been and the work he's done in communities . . .
Teen Mental Health Suicide Crisis Intervention
Sometimes it's just easier to have an outsider. Sometimes you need to have someone immediately and sometimes it's a couple weeks later. Nobody has the experience working with teens, staff members, and parents like Jeff. Here is what you can expect when Jeff comes to your community after a loss.
This isn't about revisiting the loss and bringing back the pain in the moment of our loss. Before Jeff arrives in your community he sends a video sharing his thoughts, feelings, and condolences to everyone. When Jeff comes in we have a meet and greet with the administration and counselors to make sure we are on the same page and the expectations are clearly defined. Then it's go time for the next 13-15 hours, Jeff is engaged, present, and connecting with students, staff, counselors, and parents.
The Theme for the Day
Who We Are, Where We are, and Where We Are Going
Jeff talks to your students about life. Who we are in the now. Where we are in the present moment dealing with emotions, feelings, thoughts, and beliefs. And, where we are going in life and how we are going to get there. Jeff helps your students as he shares his personal battle with mental illness and is open about his daily routine and how he prepares himself every day. This routine affords Jeff the opportunity to do what he does and to be at the top of his game emotionally and physically.
Learning this didn't come easily. In 2014, Jeff was given less than a year to live with Diabetes taking over and slowly taking his life. Shortly after, he went through spinal cord fusion, had an identity crisis and suddenly retired from speaking, and then went through emergency weight loss surgery. After losing nearly 100 lbs, and freeing himself from Diabetes, Jeff's life changed and he credits his new life to accepting his mental illness being bigger than he ever respected it to be. With counseling, medication, self-care, and being serious about his health and well-being, Jeff has become a new man.
Jeff is always honest and transparent in his stories. He doesn't hold back. While speaking to youth, staff, parents and community during such a time of pain, Jeff knows what it's like to be looking death in the eyes and what it's like to fight back and take control. He relates to your audience and inspires them to not give up and gives them the tools to better their lives while understanding the pain and emotions people are feeling.
This is an inspirational talk about life, stresses, anxieties, thoughts, emotions, feelings, and ultimately what is really important in life. Jeff talks about what we are dealing with and how we are feeling and how to feel better and take control. Mostly to take control over our emotions and thought patterns.
To References: High School Principal and Guidance Counselor
Creating a Game Plan for Success
Jeff will help your students and staff with a new game plan for their lives. He challenges and inspires your students and staff and the result is life-changing.
Partner up, team up, and let's get ready to look at yourself from the outside in. We'll create a game plan for life and success. We'll analyze participants' purpose, review current situations, and create new plans. Participants will learn how they are viewed by others and how to incorporate personal and professional changes for a greater positive impact on life.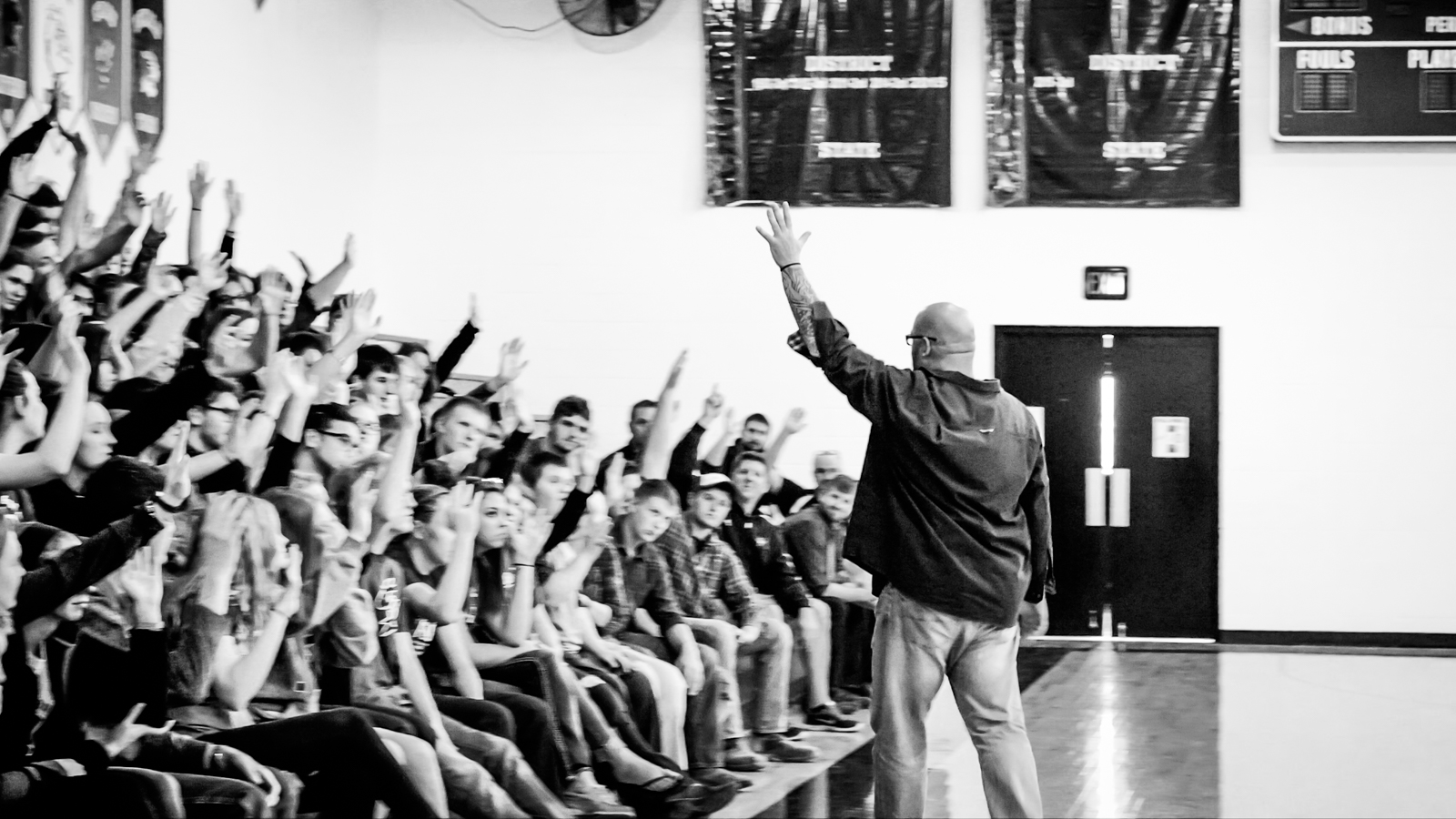 Jeff can and will help bring your community back to normal.
Contact Jeff today and discuss the possibilities of Jeff visiting and helping your students, staff, and parents.
Suicide Prevention: For School Communities in Suicide Crisis Situations or just being proactive and understanding teen mental health
This presentation teaches the community how to grieve and how not to let the loss(es) define who the school community is. My main message is one that centers on – "It's okay to ask for HELP!" I assist and encourage students to find trusted adults and not to be afraid to talk to them. I engage my audience(s), I bring seriousness with a touch of humor, and I talk about difficult, hard truths.
This is an investment into the well-being of your school climate and culture. We need to do everything possible to prevent another suicide. We need to become a more proactive, positive resource for our youth by implementing "Trusted Adults" and "Trusted Peers" on campus.
Also, it is my mission to help change the culture and attitudes of the community through my speaking, by being a positive presence in the hallways, in meeting with teachers, by attending sporting events, and by my encouraging parents to be more involved.
During the parent and community presentation, I will teach how to recognize the signs, symptoms, and threats of suicide as well as the appropriate action to take if there are visible "Red Flags".
I explain to every client, "I am the guest, I respect all your staff and teachers, please use me as a tool however you see fit and don't worry about working me too hard. This is why I am here, and together we are going to tough hearts . . . and change lives."