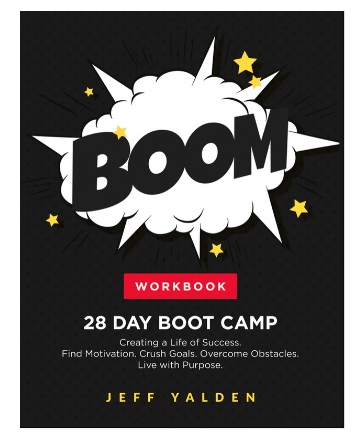 I want you to have a FREE Copy of my BOOM: Workbook. It's a 28 Day Workbook for Creating a Life of Success. Find Motivation. Crush your Goals. Overcome Obstacles. Live a Life of Purpose. Hope you enjoy and use it every month.
Celebrity Teen & Family Life Coach
All clients, matters, and conversations are strictly confidential. Your information is private.
Who Needs a Life Coach
More and more people are looking into life coaches. A life coach is an experienced mentor, who can help you approach life more intelligently, to keep you focused, and make measurable progress toward their goals.
Think about a peak performance coach. Consider Tiger Woods, the greatest golfer of all time. Tiger didn't master the sport overnight or on his own. He worked with an inspirational coach every step of the way, from high school to Stanford to the PGA. He consulted with masters who helped him to achieve greatness. Tiger Woods still has a team of coaches he works with and coaches in all aspects of his life that help and inspire him.
As your personal coach, Jeff will provide support, structure, and strategies to help fulfill your own potential. He helps you to unleash the best that is within you, to manifest your destiny - success and fulfillment, however that looks in your heart. Whether it is dealing with your mental health, drugs and alcohol addiction, balance and boundaries, your commitment to excellence, etc. He is here to give you what you need.
His job as a Life Coach is to provide feedback and guidance in a language you can hear and with an energy you will find infectious. Jeff will offer the gift of perspective. Perspective from a unique vantage, through the eyes of compassion, strength, and good ol'-fashioned life experience, or from the eyes and experience of a butt-kicking!
He's also been hired to come and spend weeks living with you to help you in your daily routine and structure. Yes, he has gone way out of his way for your success.
The difference between this and, say, psychological counseling is that together, you and Jeff build a partnership based on action. You won't stand on the cliff talking about what it's like to fly; or dwelling on your past failure(s) - You are not a victim! ... together you and Jeff with trust and respect will grab each other's hand and take a soulful, bounding leap - and we are pleased to report, that he has yet to lose a client to the leaping.
In our action-based collaboration, Jeff's clients find themselves:
doing more than they ever dreamed possible

taking their lives more seriously

radiating their own self-respect

enjoying momentum and follow-through

taking more effective, meaningful action

establishing balance and direction

more meaningful and purposeful self-care

less anxiety and stress

greater balance and having more boundaries

being self-disciplined and action oriented
Let's Begin Today!
Introductory Session with Jeff only $99.00
Because of Jeff's busy schedule and media demands, Jeff does charge for 30 minute consultations. The best way to determine whether coaching suits you is by scheduling an introductory session. $99.00 is Jeff's introductory compensation for time and investment in you determining how he can best serve you right. For very little money, you can determine first-hand whether you and Jeff are compatible as a team. Again, his introductory session is only $99.00, and you are under no obligation to hire him or make any commitment.
Jeff offers a few different options:
Introductory Conversation: $99.00 for 30 minutes. Jeff will listen and tell you his thoughts based on the conversation. Jeff is always honest and will tell you if he thinks he can help you or if he thinks you should seek professional help.

Life Coaching Session(s) - $125.00 Per Session - One Hour

Coaching 101 Package – $100.00 Per Session. 3 Sessions with Jeff. Total Cost $300.00

Professional Coaching Package – $79.00 Per Session. 6 Sessions with Jeff. Total Cost $594.00

Motivational Personalized Videos - $200.00

Monthly Motivational Videos to Schools or Teens - $150 per month - 11 month commitment
** All Coaching Sessions are via SKYPE ONLINE **
Do you have questions? (Email Jeff)
So Why Hire a Coach?
Adults & Professionals hire Jeff for any number of reasons: mental health awareness, structure, encouragement, getting through the grieving process of loss, divorce, or anything such as career transition, new business, feelings of personal discontent, reevaluation of life choices, financial stress, or simply a longing for personal empowerment.

Parents hire Jeff to coach their children or teens to help with grades, athletics or general attitude toward life. To encourage self-care, balance, boundaries, and commitment to being the best they can be. To help with anxiety and stress. Parents also hire Jeff to help with their own sense of being as a parent, adult, parenting, balance, boundaries, and a number of things parents struggle with.

Couples hire Jeff to help rediscover the joy in their relationship, and re-establish their connection with each other when careers, stress, and finances draw them apart.

Professional Athletes have hired Jeff to help them transition into the world of being a celebrity and the responsibilities and commitments that go with this expectation. Finding balance in every day life. Creating boundaries. Learning to say, "NO!" Mental health and addiction. Life skills, choices, and as Jeff likes to say, "Adulting in the Professional World!"

Celebrities have hired Jeff for different reasons as well. Adulting in the Professional World when all expectations and eyes are on them to be who they're not, but it's expected to be someone because of who they are and what they are representing. Mental health and addiction, but they want to keep it private, however, they can see their professional lives are being affected by the chemicals in their body and/or neurotransmitters not connecting properly (mental health). Celebrities have also hired Jeff to work with their teens.

. . . maybe your're next! Let's talk.
Whatever their reason for coming, clients stay because the results are immediate. However, Jeff can lead you to water, but he can't make you drink. If you are investing in coaching with Jeff, you are going to meet Jeff halfway and be willing to do the work on your part too. If you are unwilling to do the work, Jeff can stop working with you at any time.
At this point, Jeff can stop with all the promotion and let the outcome speak for itself. Let's do this.
Remember, my coaching sessions are all about YOU and what you wish to achieve in your life. I will remind you of your strengths. I will work with you on your weaknesses. I will help you to feel better about yourself and give you valuable feedback on your thoughts and behaviors to support you in moving forward. The focus is on positive change: stating this is where I was, this is where I am, and this is where I am going!
Definition of Coaching
Professional Coaching is a partnership toward your personal and professional fulfillment. Clients develop in self-knowledge and self-mastery, improve their performance, and overhaul the quality of their lives.
Clients direct the focus of conversation while Jeff listens and contributes strategically to bring clarity and forward movement. Clients tend to make headway when they focus and become aware of their options. Coaching is, in short, a way of getting from where you are to where you'd like to be.
What Life Coaching is NOT
Coaching is not psychotherapy. Clients suffering from organic dysfunction or forms of mental illness should seek a licensed therapist and/or psychiatrist (Jeff will tell you this too if he think this is where you need to go.) Jeff has helped distraught clients, but in the interest of safety reserves the right to refuse coaching services when, in his judgment, the client is in need of psychological or medical intervention.
Life Coaching . . . More Answers to Your Questions
Jeff takes great pride and responsibility with his work. Whether teens, young adults (millennials), parents, families, or professionals, Jeff works well with you where therapy and counseling just isn't resonating in your heart.
Motivational Speaking Coaching Success Program
Please visit Jeff's Online Course (CLICK HERE)
Jeff Yalden is a Client of Professional Coaching
Because Jeff believes in the value of coaching, he too has his own personal coaches and a professional counselor, each with his/her own style and approach. This is how 'The Motivator' stays balanced and motivated. As a result, he is pleased to report the following benefits:
development of life purpose

alignment of thoughts and actions

a shift from scarcity and fear to prosperity

increased appreciation for self, family, and friends

deeper connection with his inner guide and his own personal truths

realization of intentions and goals

a greater sense of purpose and fulfillment

balance emotionally, physically, and spiritually

a more healthy lifestyle and overall purpose of self

more free time to enjoy all these benefits!
Jeff's clients come from every conceivable racial, spiritual, political, and economic background. Jeff finds that each brings their own individual talents and abilities. He eagerly welcomes them all, as he is hooked on discovering the fullness and depth of the human experience. Jeff never discriminates on the basis of age, gender, disability, ethnicity, politics, race, religion, or sexual identity. It is his pleasure to work with people of all shapes and colors and sizes, from grade school students to corporate executives.
He does, however, find that his clients have one thing in common: Without exception, everyone yearns for purpose and fulfillment. His job is to open the client to his true life desires and together conceive a game plan. The work consists mainly in addressing the issues that prevent the client from progressing as an individual:
Motivational Videos
Most of Jeff's work is as a Youth Motivational Speaker and Mental Health Speaker. His motivational videos reiterate his message long after he is gone, but if you've ever been in his audience you're still wanting to hear him speak truth, inspiration, motivation, and clarity.
Many high schools and middle schools like to have Jeff close by when they need that push. His videos help when class time is of the utmost importance and they can't all get down to the gymnasium or auditorium for two hours with Jeff.
So, Jeff continues to do videos for schools or school organizations for continued spirit and morale. Videos can be used for, but never limited to: pep rallies, a big exam push, sports success or a big game coming up, Pre Prom Pep Talk, welcome back to school, encouragement, and he's also done many to invite kids to refocus and to embrace one another after the loss of one of their classmates.
Whatever the video need you are interested in, Jeff is always willing to work with you to keep his message fresh in their hearts and minds. Remember, "Touch the heart and the mind will follow."
If you are interested in a person video, please reach out to us.
School Communities:
School Spirit

Pep Rallies

School Sports

Encouragement

Pre Prom

Big Exams/State Tests

Motivation

March & April Doldrums

Refocus after tragedy or loss - Teen Suicide

Welcome Back

Be Safe

Make Good Choices

Motivational Minutes
Teen Inspiration:
Bullying

Self Esteem

Acceptance

Grades | School | College

Athletics

Weight Loss

Nutrition & Strength
Young Adults:
Life Purpose

Jobs

Stress | Mindfulness Training

Balance

Relationships

Debt & Money Management

Drugs & Alcohol

Weight Loss | Fitness | Nutrition
Adults & Professionals:
Relationships

Families

Weight Loss | Fitness | Nutrition

Job | Career

Debt Management

Balance

Stress | Mindfulness Training

Purpose
Parents & Families:
lack of direction or life purpose

family stress

relationship issues

trouble saying no

setting boundaries personally or professionally

debt and money management

desire for greater success and abundance in life

life transitions: school, career, death, divorce

marketing and growing a business

"stuck" relationships

goal-setting and follow-through

weight loss

motivation and inspiration
Whoever the person and whatever their objective, Jeff is able to clarify the client's perspective and help create a shift in their awareness to a model of success as they define it. His clients reconnect with their dreams and regain their excitement for life, even if that desire and excitement have atrophied from years of neglect. It has been his special pleasure to work with couples looking to frame their relationships in a way that provides mutual growth and fulfillment.
Jeff can help you grow in awareness and become more intimate with your own truth, which already resonates inside you. Part of the work together is discovering how to bring out the best that is inside you, according to your goals, needs, and constitution. All he asks in return is your willingness to explore your beliefs and viewpoints. To be honest and vulnerable because that is when you grow.
Empowerment begins when we become conscious of, and responsible for, all of our thoughts, choices, and reactions. The most wonderful part is that once we look the ego in the eye, we become its master, and it never has the same power over us. And once we demonstrate our own priorities and direct our own perceptions, the world responds immediately.
Life Coaching . . . Introductory Session
Are you ready?