Teen Mental Health Speaker for School Communities & Mental Health Professionals
A Full Day in your School Community speaking to teens, teachers, counselors, parents and community!
Are you interested in Jeff visiting your school community and speaking with your teens, teachers, counselors, parents and community?
Jeff Yalden possesses a strong background in clinical psychology and education. For more than two decades, Jeff has worked with schools, communities, and mental health professionals on teen mental health, teen suicide prevention, and helping teens understand themselves and creating a plan for their future.
Jeff gets teens and teens get Jeff . . . Contact Betty Today!
We know that every year about 170,000 teens are brought to the emergency room after a failed teen suicide attempt. Of those 170,000 we know 30% of these teens will attempt suicide again.
Recently, Jeff asked a student who had attempted suicide why she didn't ask for help and she replied, "Nobody asked me." We have to start reaching our teens and talking about Teen Suicide Prevention and the role their friends have in helping their friends in crisis.
As a matter of fact, "In the next decade we will see a 31% increase in teen suicides and drug and alcohol related deaths."
Teen Mental Health & Suicide Prevention Speaker
Suicide in School Bathrooms
Imagine you experience the unexpected. A student walks into the bathroom and comes across a cell phone cord tied in a knot and notices . . .
Does your school have an emergency plan in the event you experience a suicide that happens in the school, during the school day?
Watch this video and share with your maintenance, administration, counselors, etc. VIDEO
Suicidal Assessment Made on a Teen
A teenager opens up to Jeff and wants help. Watch Jeff build the trust, listen, and create a safe space for this young lady. Jeff shows you how to ask the "Are you suicidal question" and ultimately works with the parents and the school and gets this young lady the help she needed.
In the end, this young lady (still a friend of Jeff's) has credited him for saving her life. She didn't know who to talk to. Until Jeff came to her school.
Jeff Yalden helps teens help themselves and helps our school counselors and administration understand our youth and today's teens and the mental well-being.
Take all Signs Seriously . . .
Don't Self-Diagnose our Teens without the help of a Mental Health Professional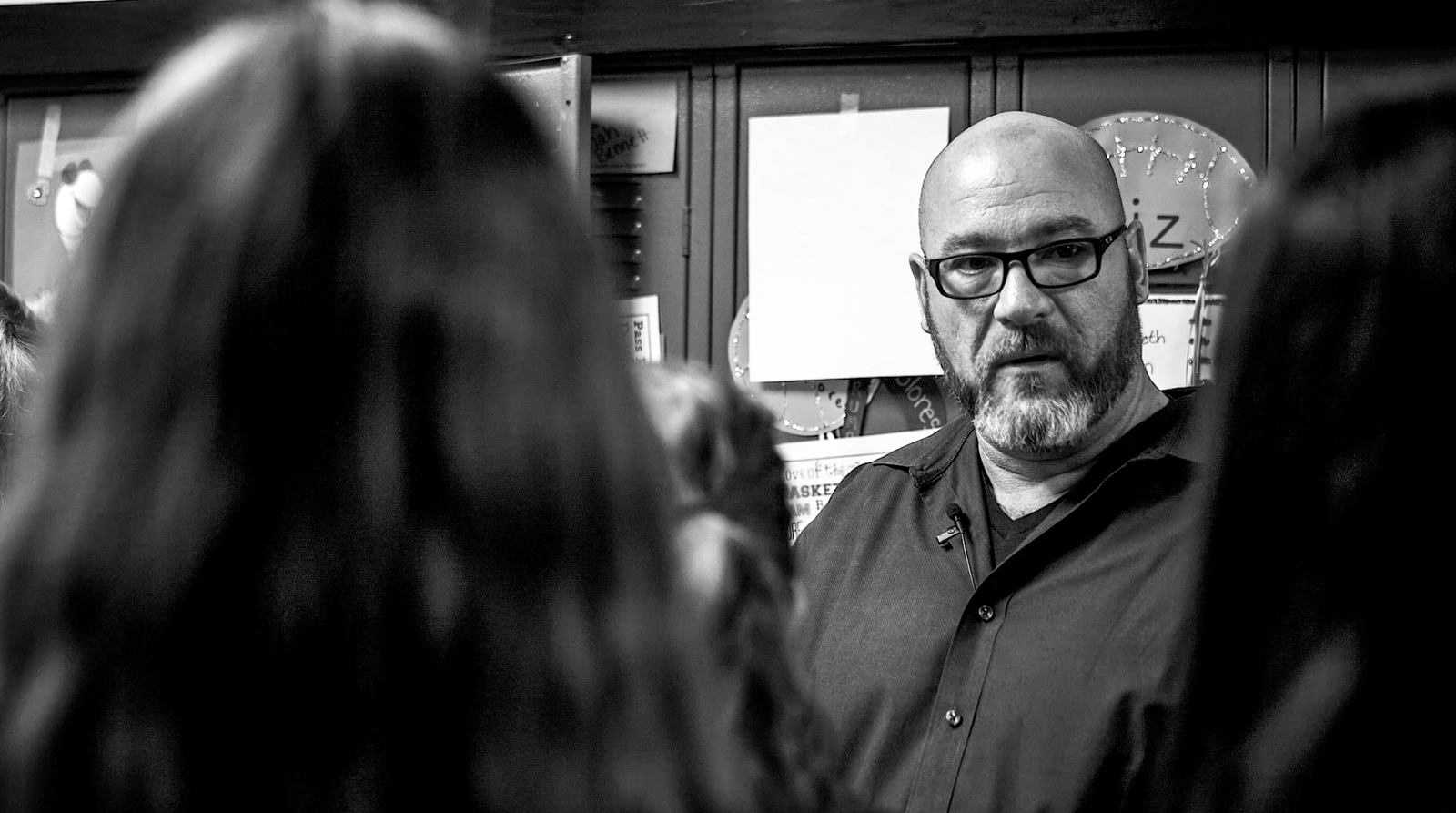 They emptied her locker together . . .
Maybe they needed Jeff to give them permission to move forward. "She was the most popular girl in the school.", they said. A junior takes her life. Her locker decorated. Her chair still sitting in class; empty. Jeff spent the day and helped this small rural community understand and move forward. This is what Jeff does. Teens understand Jeff and he understands Teens.
Hundreds of School Communities Have Already Hired Jeff . . . Are You Next?
Well, let's hope not, but maybe you should consider hiring Jeff before you have to hire Jeff. Let's be proactive and give our youth and staff what they need - Teen Suicide Prevention Training and Teacher and Staff Suicide Prevention Training. We all have a responsibility to each other.
Every school community going through a crisis has different thoughts, concerns, wants, and needs. I understand this; I know that I am a guest working in conjunction with you – the school administration and the school counselors. I'm open to hearing the direction you want in this potential visit.
To answer your immediate questions, it is important to me that you understand – my visit is about my providing a positive, influential experience to assist the school community in moving forward – together! I never want to leave pieces for counselors and/or parents to clean up. Focusing on progress and healing, I want to make sure you understand my visit won't be about rehashing what happened; I focus on assisting a community on processing what has happened and moving forward at least a step or two each and every day . . . in a positive and healthy manner.
I researched programs I've done in the past that were well-received and greatly successful, therefore, here is a suggested outline for you to consider: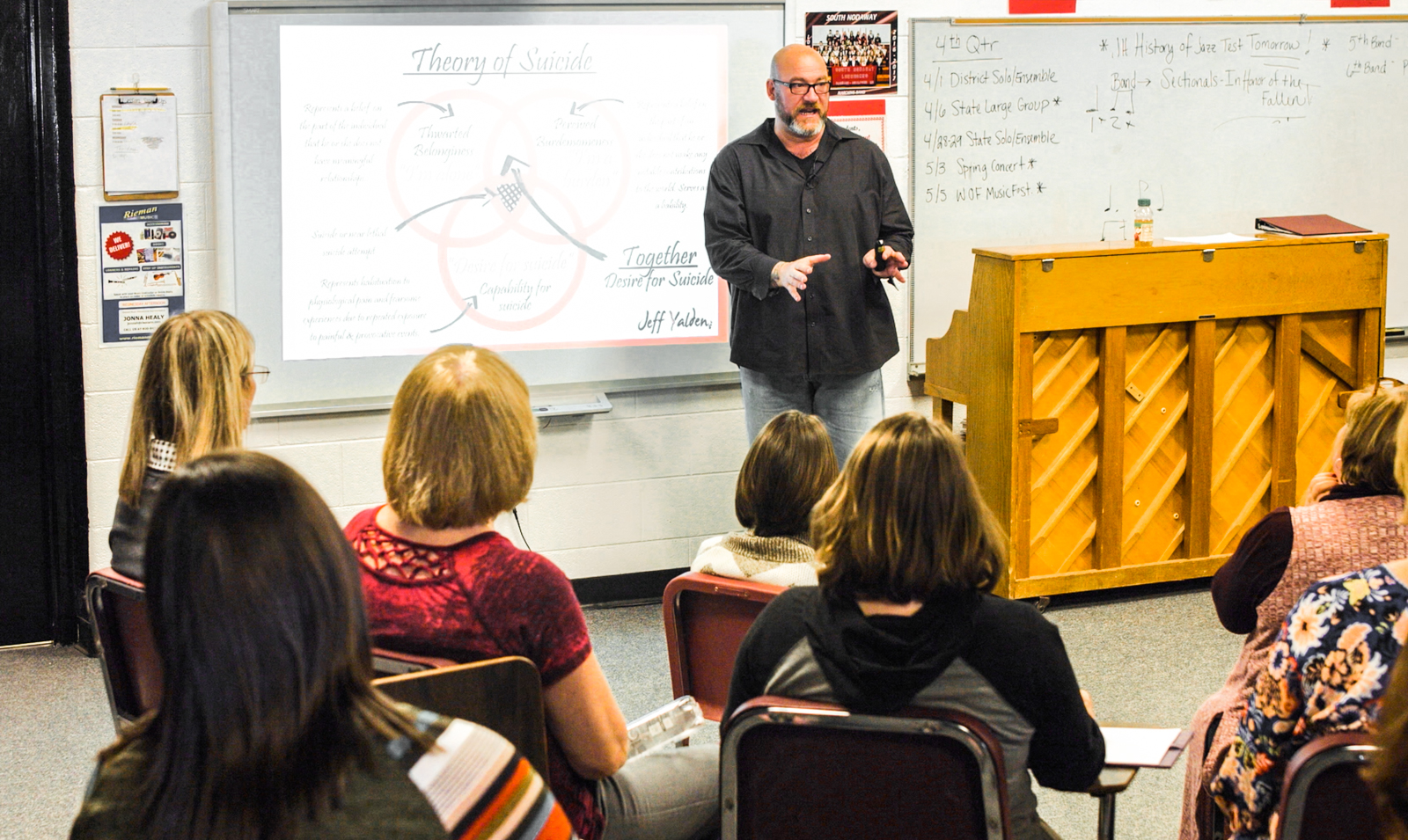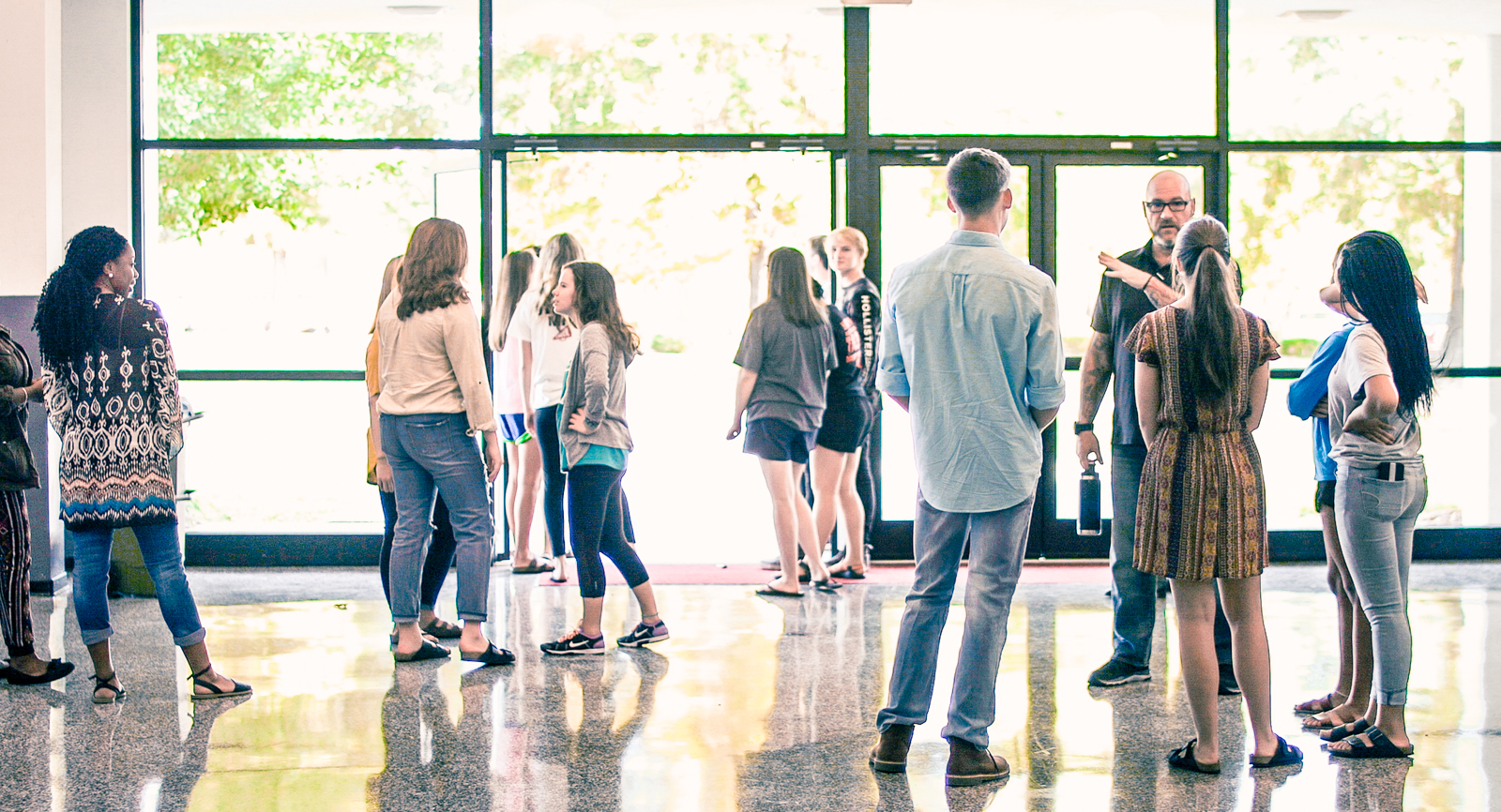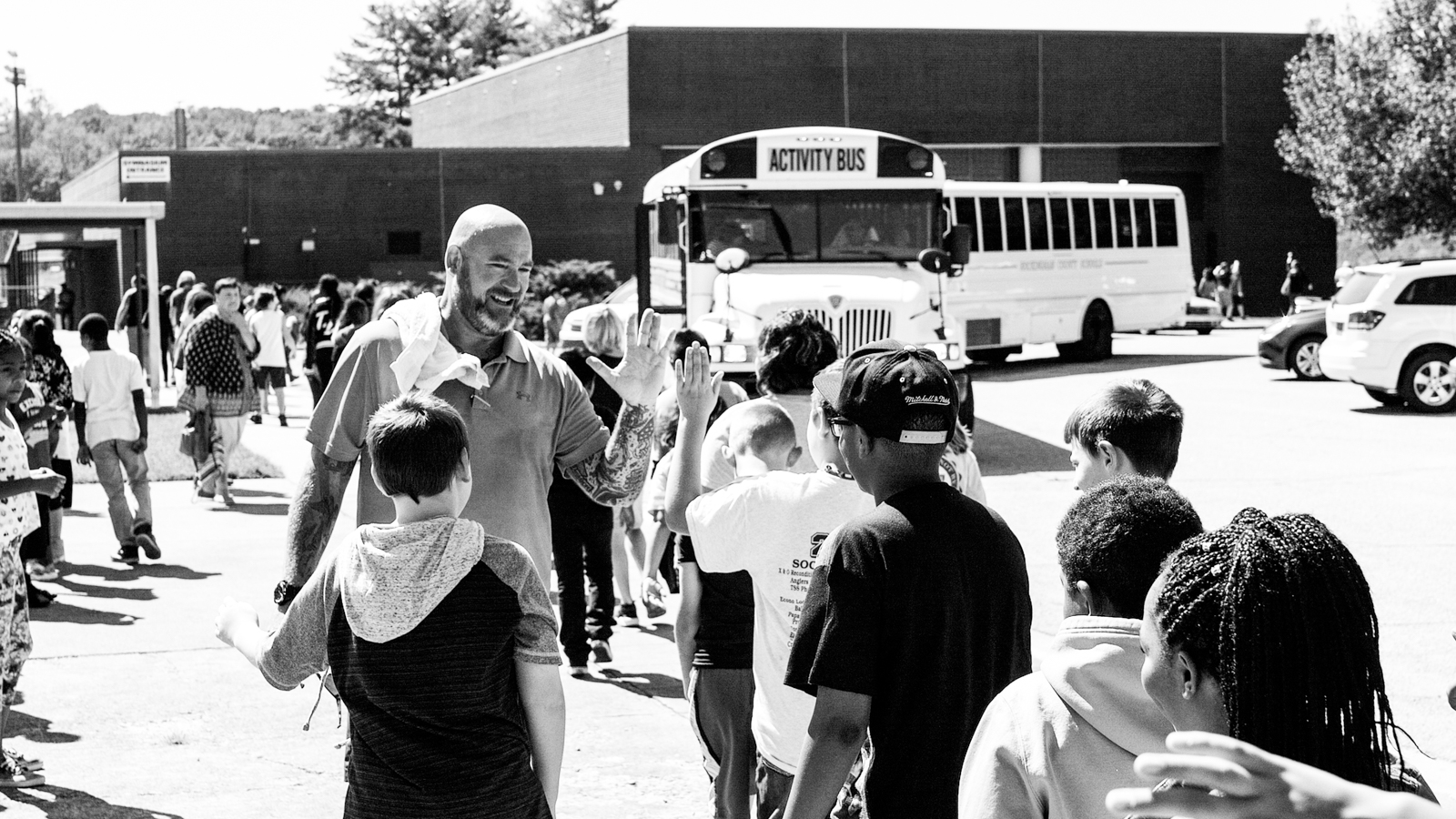 Teen Suicide is an epidemic today, teens are not reaching out to trusted adults for help and are afraid they're going against their friends if they say something. Jeff helps you communicate to your teens. Suicide prevention for teens has never been more important than now.
The Jeff Yalden Foundation - Mental Health & Suicide Prevention
Our foundation advocates for mental health awareness and teaches suicide prevention to help anyone who is struggling so that they know It is OK to ask for HELP.
To be a resource for school communities in their struggle with mental health on campus and to teach long lasting prevention and how to prevent a suicide from happening within their communities.
That is what we do!
Jeff delivered the acclaimed TEDx Talk - Teen Suicide: The "WHY" Behind America's Teen Suicide Epidemic
Teen Suicide Prevention & Teen Mental Health:
Training School Staff & Educating Parents
Suicide Crisis Intervention in a School Community. Jeff spends time with students in Barnard, MO that lost one of their peers to suicide.
Developed by Jeff Yalden this training is a Gatekeeper Training Program for teachers, staff, and students. The experientially based training is designed to enhance knowledge, awareness, and skills concerning teen and youth suicide.
Specifically, this training aims to increase knowledge about suicide statistics, risk and protective factors, warning signs, and referral resources; to increase empathic listening skills, communication skills, and the ability to ask individuals if they are thinking about suicide; and to increase self-awareness concerning the potential emotional reactions gatekeepers may experience when interacting with students in crisis.
This Training by Jeff Yalden is highly interactive, with gatekeepers participating in multiple exercises throughout the training to increase both their skills and awareness concerning the emotional intensity of responding to suicidal students.
The two-and half hour training culminates with a role play, in which gatekeepers are given the opportunity to practice the skills they are taught during the course of the training.
Training in School Communities
Changing the school climate and school culture is a lot easier than you think.
As many states are making suicide prevention training mandatory it's not enough. We have a responsibility to do more and to bring this issue of Mental Health to the forefront and Jeff helps you do just that.
First, Jeff comes in and speaks about Suicide Prevention and Teen Mental Health. Then, Jeff will train your school staff to be "Trusted Adults." Not every teacher or staff members wants this responsibility, but those that want to be "Trusted Adults" will go through an extra hour of training and will receive a sticker and a poster for their classroom door entering the classroom and a poster for their classroom. They will also be given a green bandana representing who they are as well.
The same bandana the teachers or staff will have are also the same bandanas the students leaders who go through the training will receive representing they're "Trusted Friends."
Before any of the Training, Jeff likes to do a school assembly for all staff and students. This builds the respect and trust and sets the tone for Jeff being on campus.
Understand, not all our students are dealing with mental illness. Therefore, Jeff carefully makes this clear and delivers a message, "About Life" rather than just a message about Mental Health.
Teen Suicide & Mental Health – Taboo . . . Let's not talk about it! No, LET'S START TALKING!
Ah . . . Let's! We need to start talking about it. The more we talk the less people will be afraid to open up and ask for the help they need.
Communities Struggling . . . Videos to Watch:
3 Minute Mindfulness Meditation
Imagine if and when we start doing mindfulness in our schools what a difference only 3 minutes per day will make? Here is a quick 3 minute mindfulness meditation for your class. It's FREE. Use it whenever, wherever you'd like. CLICK HERE
Not talking about it is safe and easy, but it's wrong. Jeff enjoys talking about it because he knows we need to and it saves lives. Let Jeff make it interesting and eye-opening in a way where your audience will feel empowered to make a difference. We need your staff and community members to be able to intervene before a crisis will occur. Let's talk about it and get our youth the help they need.
Suicide can be prevented!
Suicide is a serious public health problem that can destroy family, friends, classmates, co-workers, communities, and teacher personnel. Suicide is a major problem for teens and our military personnel and veterans and Jeff Yalden is the expert teaching others how they can help to prevent suicide from happening. 90% of the time there are clues before a suicide is completed or attempted.
2011 is the most recent year in which full data is available. Suicide then accounted for 12 deaths for every 100,000 people nationwide, making it the country's 10th leading cause of death. Unlike many other leading causes of death, suicide continues to claim more lives every year. Today, over 1 Million people die to suicide. Imagine 100 people per day or 1 person every 15 minutes. Staggering! These numbers are only climbing and we can make a difference when we know how to intervene and act accordingly. We can prevent suicides from happening within our communities.
Trying to uncover the reason for an individual suicide death is complex and challenging. What we do know from research is that 90% of people who die by suicide have a potentially treatable mental disorder at the time of their death – a disorder that often has gone unrecognized and untreated.
Jeff Yalden will help you understand the symptoms and the signs to look for. With a little bit of information we can easily reach those of our students or young people whom don't know where to turn and we can be the ones that save their lives.
4 Tips to Save a Teen's Life (Watch Video)
Jeff Yalden visits Cherokee Public Schools for the 2nd Three Day visit in One Year!
August 13-15, 2019 - Cherokee Public Schools in Cherokee, OK hired teen mental health and suicide prevention speaker Jeff Yalden again. Last year, they had a teen suicide that rocked their community. They hired Jeff for three days to come and speak to the students and school community. This year, they decided to bring Jeff back for three days to start the school year. Watch the video of Jeff's visit here: